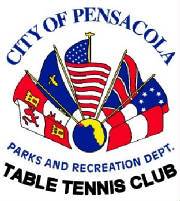 Pensacola Table Tennis Club is located at 901 N. "E" St., Pensacola, Florida 32501. The Fricker Community Center is located just one block North of Cervantes and parking is inside the fenced area just past the Baseball field on the left. Our club has Monday nights from 6:pm until 9:pm for "Family Fun Play". Bring your kids and your mom and dad for a fun night of family play. Coaching is available and adult supervision is always present. Thursday nights are for the more advanced "Athletic Play". But if you want some fast moving exercise, come join us and get your cardio vascular work out from 6:pm until 9:pm on Thursdays.
There is plenty of room and tables for all levels of play, so come in and join the fun on which ever night you can make it.
Our club is a USATT sanctioned club with Certified Referees and players from the Beginner level to the Advanced level. We are a non-profit club and envite any one who loves the game as we do to come play with us.